Quick Steps to Get 20% Off Certification Reactivation
Keeping your certification active is critical to staying relevant in the cybersecurity workforce. With this one-time offer, you can reactivate your expired certification before it's gone for good. *Don't wait–this offer ends on March 31, 2023!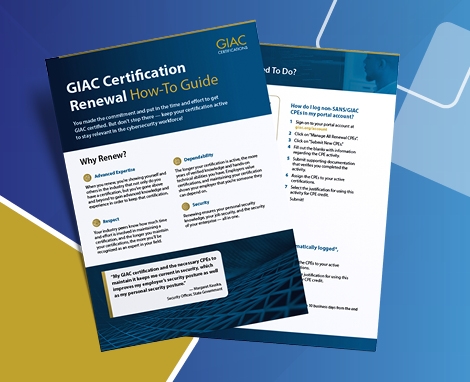 Relevant Resources
To remain current and competitive in the cybersecurity workforce, we recommend renewing via the CPE option: collect 36 credits over four years to keep your certification active. Here are a few resources that will help you find the many ways to earn CPEs by simply staying active in the industry.
Why Renew?
96%
of practitioners believe that their certification have better prepared them for their current role
67%
of IT executives require industry certifications for jobs in cybersecurity
82%
of organizations prefer hiring candidates with certifications
What Others Are Saying...
I value the instant respect and credibility GIAC professionals receive. People know you've worked hard to obtain the certification and they recognize the critical skills and knowledge that come with it.
My GIAC certification and the necessary CPEs to maintain it keeps me current in security, which improves my employer's security posture as well as my personal security posture.
The best thing about a GIAC certification is that beyond earning the certification itself, you enter a sharing community of specialists that allows you to continue learning and sharing what you learn.
*Only eligible accounts may take advantage of this offer. Offer applies to first full-price renewal only. For information on what CPEs are accepted, please visit our renewal webpage. Once your certification is renewed, it will be valid for an additional four years from its original expiration date. This offer is non-transferrable and has no monetary value to candidate. Cannot be combined with other offers or voucher programs. See our webpage for applicable Renewal terms & conditions