Retrieval practice, or taking a test that asks students to recall what they had read, is an effective tool to promote learning, according to research from the journal Science. The study specifically found that students who read a passage and then took a test asking them to recall information they had read, retained roughly 50% more of the info a week later when compared to other methods such as repeatedly studying the material or drawing detailed diagrams documenting what they are learning.
This shows how powerful test taking is and demonstrates something referred to as the "testing effect."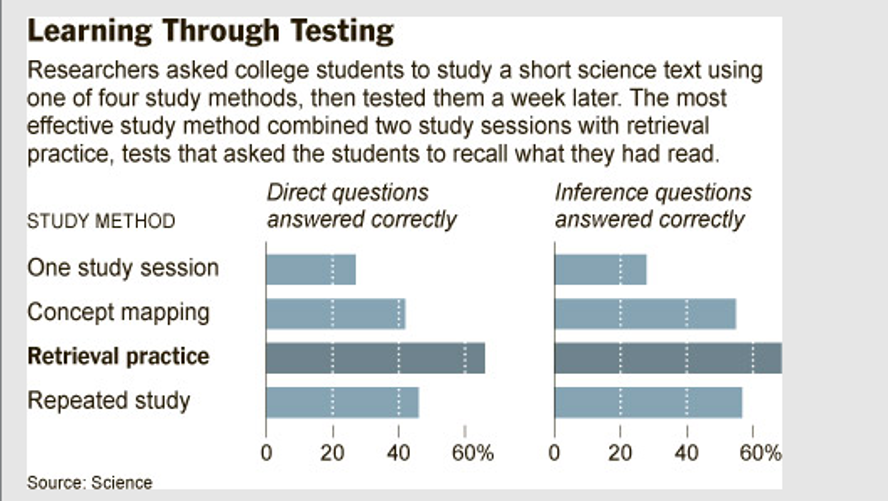 The Testing Effect
"Taking a test is not just a passive mechanism for assessing how much people know," writes health and science writer Pam Belluck for The New York Times. "It actually helps people learn, and it works better than a number of other studying techniques."
This is a phenomenon known as the testing effect, a term that's been used for well over a century. Why is testing more effective than studying for retention? Dozens of studies have proven the testing effect is real, but there are multiple theories as to why it works.
One possible explanation is a theory that testing simply works differently in the brain than studying does. When you test, you're asking your brain to remember information on demand, a process that could organize and create connections in our brain that it later recognizes, according to Belluck.
Robert Bjork, a psychologist not involved in the Science study but who contributed to the Times article, explains it as such:
"When we use our memories by retrieving things, we change our access to that information. What we recall becomes more recallable in the future. In a sense, you are practicing what you are going to need to do later."
Another theory is that the act of struggling to recall information actually helps reinforce it in our brains.
"Even though in the short term it may seem like a waste of time," Nate Kornell, a psychologist at Williams College, told Belluck, "[retrieval practice appears to] make things stick in a way that may not be used in the classroom. It's going to last for the rest of their schooling, and potentially for the rest of their lives."
Getting GIAC-Certified
While some may view certification as an add-on to verify the completion of training, SANS and GIAC are flipping the script and making the certification exam an essential part of training itself.
By itself, the promise of retaining more training material is a reason to include testing as part of your training process, there are other stats worth considering. For one, 82% of organizations prefer hiring candidates with certifications, according to PearsonVue. Additional data from the PearsonVue 2023 study shows that 92% of certified candidates are more confident in their abilities, and 81% of certified candidates have more confidence to explore new job opportunities.
Explore significant, career-impacting certification value for both professionals and employers. Browse all GIAC certifications today and see just how far certification can take your cybersecurity career.