GIAC's NEW certification journey provides more flexibility than ever, allowing you to blaze your own cybersecurity certification path to success. The new features include a certification portfolio and new and updated certifications that rigorously test your skills.
NEW! GIAC's Portfolio Certifications
GIAC developed its new portfolio certifications to allow you to chart your own course toward expert status. With each certification you achieve, you're acquiring new skills that, when stacked together in your portfolio, can earn you two valuable distinctions in cybersecurity – the GIAC Security Professional (GSP) and GIAC Security Expert (GSE) certifications. But with this new certification structure, there's more than one way to become an expert. Choose from dozens of GIAC's world-renowned Practitioner Certifications to add to your portfolio and round out your skill sets with the extra challenge of GIAC's NEW Applied Knowledge Certifications. GIAC constantly creates and updates courses that you can add to your portfolio and meet both customer demand and current and future cybersecurity challenges.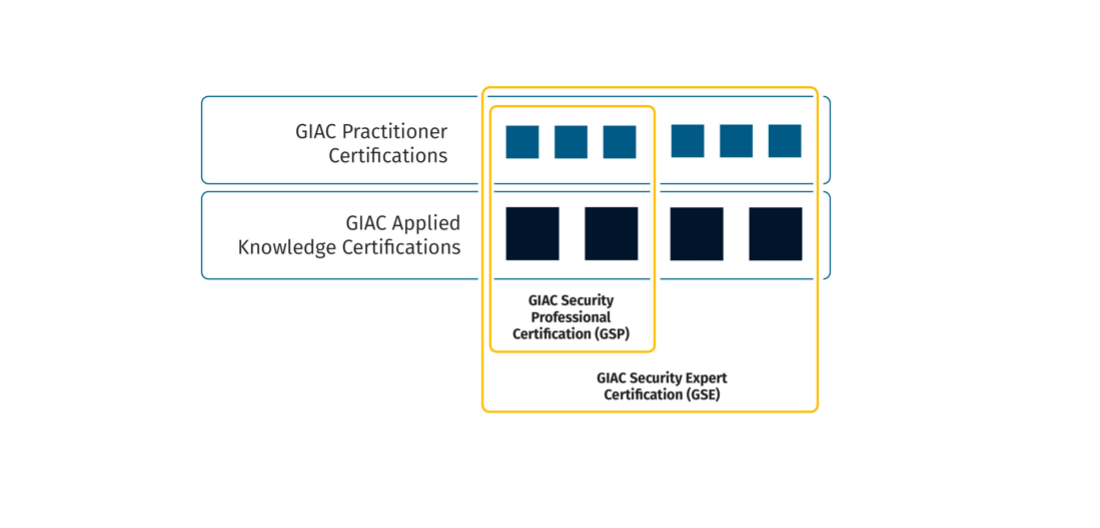 Q: Will the exams I have taken in the hope of getting a GSE still matter? Have you moved the goalposts on me by requiring me to take more courses? Find the answers in GIAC's New Certification Journey FAQ here.
GIAC Certification Categories
GIAC took our 40+ existing certifications and categorized them as Practitioner Certifications. These certifications prove you have the skills in a foundational area.
GIAC's NEW Applied Knowledge Certification exams take place in a 100% hands-on, real-world environment and were developed to take your critical thinking skills and ability to solve complex security problems to the next level. You will apply your cybersecurity knowledge to some of the most difficult tests in the industry. Acquiring an Applied Knowledge Certification will make you truly stand out among your peers.
Q: There are only three Applied Knowledge exams, so how can I earn the GSE if it requires four certification exams? Find the answer in GIAC's New Certification Journey FAQ here.
What is Skills Stacking?
Skills stacking allows you to certify across a wide range of skills instead of a narrowly focused cybersecurity niche. This approach allows you to pick and choose the certifications that are most interesting to you. As you build your portfolio from GIAC's Practitioner and Applied Knowledge Certification categories, you can master complementary skills that support each other and create a unique and diverse skill set.
"I value the instant respect and credibility GIAC professionals receive. People know you've worked hard to obtain the certification and they recognize the critical skills and knowledge that come with it." - Ben Boyle | GWAPT, GXPN, GPEN
Q: Won't this cost me a lot more because I need 10 certifications? Find the answer in GIAC's New Certification Journey FAQ here.
NEW! Become a GIAC Security Professional
GIAC's new GSP is the midway point of your certification journey. You will receive your GSP by successfully completing any three Practitioner Certifications and any two Applied Knowledge Certifications. Instead of being stuck within the confines of a rigid and generic cybersecurity certification path, GIAC allows you to build out your portfolio with a customized set of certifications based on the cybersecurity domains that most interest you.
With the GSP complete, you will have reached a professional milestone that separates you from the vast majority of other professionals in the industry. The GSP credential will inform the cybersecurity community of your skill and expertise and solidify your credibility as a top cybersecurity practitioner. As a token of your achievement, you will also receive a one-of-a-kind collectible GIAC Security Professional Coin and available in late 2023 to recipients who opt in via email.
UPDATED! Become a GIAC Security Expert
With the GSP requirements behind you, you'll be riding high on your overwhelming feeling of achievement. Ride that wave of accomplishment to the end of your journey and reach the ultimate certification milestone, the GSE.
The GSE is the most prestigious cybersecurity distinction in the industry. GIAC updated it to be more flexible, more accessible, and so that the best, most talented cybersecurity professionals can prove their proficiency in some of the most challenging security problems.
Not only does successfully earning the GSE distinction provide industry-standard proof that you are a premier professional in your field, but once you complete your cybersecurity certification journey, you will look back on that time with a sense of professional and personal accomplishment.
The GSE is achieved by successfully achieving any six Practitioner Certifications and any four Applied Knowledge Certifications. However, with the GSP complete, you only need to complete an additional three Practitioner and two Applied Knowledge Certifications. Upon becoming a GSE, you will be presented with a GIAC Security Expert Coin. The GSE coin will be available in late 2023 to recipients who opt in via email.
And, keeping with GIAC's journey flexibility promise, both the GSP and GSE certifications can be achieved over any period of time as long as your certifications remain active.
Q: Renewing ten underlying certifications is going to cost a lot more than it previously cost. Can you explain what will happen with renewal? Find the answer in GIAC's New Certification Journey FAQ here.
Start Building Your Certification Portfolio Today!
Whether you are interested in leveling up your cybersecurity skills, proving your proficiency in cybersecurity principles, or just starting your cybersecurity journey, GIAC's Practitioner, Applied Knowledge, and Portfolio Certifications provide you with the ability to verify your skills and further your career.
To learn more about GIAC's New Cybersecurity Certification Journey, please visit https://giac.org/get-started/.
Do you have questions about GIAC's New Cybersecurity Certification Journey? Read GIAC's New Certification Journey FAQ here to answer all your questions.