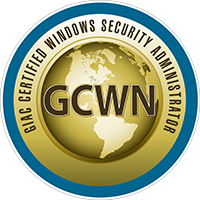 GIAC Certified Windows Security Administrator (GCWN)
Description
GIAC Certified Windows Security Administrators (GCWNs) have the knowledge, skills and abilities to secure Microsoft Windows clients and servers, including technologies such as PKI, IPSec, Group Policy, AppLocker, and PowerShell.
Target
Individuals responsible for installing, configuring, and securing Microsoft Windows clients and servers.
GIAC Certified Windows Security Administrators (GCWNs) have the knowledge and skills needed to configure and manage the security of Microsoft operating systems and applications, including: PKI, IPSec, Group Policy, AppLocker, DNSSEC, PowerShell, and hardening Windows against malware and persistent adversaries. Candidates should be familiar with Windows 7, Windows 10, Server 2012, and Server 2016.
*No Specific training is required for any GIAC certification. There are many sources of information available regarding the certification objectives' knowledge areas. Practical experience is an option; there are also numerous books on the market covering Computer Information Security. Another option is any relevant courses from training providers, including SANS.*
Requirements
1 proctored exam
75 questions
Time limit of 2 hours
Minimum Passing Score of 66%
Note:
GIAC reserves the right to change the specifications for each certification without notice. Based on a scientific passing point study, the passing point for the passing point for the GCWN exam has been determined to be 66% for all candidates receiving access to their certification attempts on or after 10/26/2012. To verify the format of your current certification attempt, please read the Certification Information found in your portal account at https://exams.giac.org/pages/attempts.
Renew
Certifications must be renewed every 4 years. Click here for details.
Delivery
NOTE: All GIAC exams are delivered through proctored test centers and must be scheduled in advance.
GIAC certification attempts will be activated in your GIAC account after your application has been approved and according to the terms of your purchase. Details on delivery will be provided along with your registration confirmation upon payment. You will receive an email notification when your certification attempt has been activated in your account. You will have 120 days from the date of activation to complete your certification attempt. GIAC exams must be proctored through Pearson VUE. Please click the following link for instructions on How to Schedule Your GIAC Proctored Exam http://www.giac.org/information/schedule_proctored_exam.pdf. GIAC exams are delivered online through a standard web browser.
Links
Bulletin (Part 2 of Candidate Handbook)
Exam Certification Objectives & Outcome Statements
The topic areas for each exam part follow:
Defensible Networking

The candidate will be able to use PowerShell to access WMI on remote machines, secure DNS with DNSSEC, Kerberos and sinkholes, disable IPv6 tunneling features,disable SSL and optimize TLS cipher suites, disable LM and allow only NTLMv2 or Kerberos, harden RDP against man-in-the-middle attacks, and encrypt and sign SMB traffic.

Endpoint Protection

The candidate will be to understand and configure the Windows Firewall, use IPSec to control access to ports based on role, deploy IPSec and firewall rules through Group Policy and PowerShell, deploy AppLocker application whitelisting, enable Windows audit policies for SIEM consumption, and capture system snapshots to help the Hunt Team.

Operating System and Applications Hardening

The candidate will be able to plan and implement a comprehensive hardening strategy for the Windows operating system and other popular applications which are vulnerable to client-side exploits, using techniques such as application whitelisting, applying security templates through Group Policy, and server configuration through PowerShell.

PKI Management

The candidate will be able to plan and implement a Public Key Infrastructure (PKI) using Windows Server for the sake of secure authentication, smart cards, data encryption, and digital signatures.

Restricting Administrative Compromise

The candidate will be able to plan and implement a strategy to reduce how often hackers or malware can compromise administrative accounts and to reduce the harm which follows from an administrative compromise, using techniques such as constrained delegation of authority, role-based access control, limiting unnecessary privileges, secure authentication, and proper management of service accounts and scheduled tasks.

Securing PowerShell

The candidate will be able to plan and implement a strategy to secure the use of PowerShell, including execution policy, code signing, and User Account Control restrictions.
Where to Get Help
Training is available from a variety of resources including on line, course attendance at a live conference, and self study.
Practical experience is another way to ensure that you have mastered the skills necessary for certification. Many professionals have the experience to meet the certification objectives identified.
Finally, college level courses or study through another program may meet the needs for mastery.
The procedure to contest exam results can be found at https://www.giac.org/about/procedures/grievance.