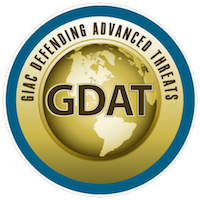 GIAC Defending Advanced Threats (GDAT)
SANS SEC599 Alumni will be eligible to challenge the GDAT exam. All alumni of SEC599 will receive a special offer email with a discount code once the exam is live to the public in early October.
Description
"The GDAT certification is unique in how it covers both offensive and defensive security topics in-depth. Holders of the GDAT certification have demonstrated advanced knowledge of how adversaries are penetrating networks, but also what security controls are effective to stop them. Next to knowing what controls are instrumental to prevent recent attacks, certified GDAT professionals know that prevent-only is not feasible and thus know how to detect and respond to attacks. Combining all these skills, they have the ability to prevent, detect, and respond to both traditional and APT-style attacks!" Erik Van Buggenhout, Course Author SANS SE599: Defeating Advanced Adversaries - Purple Team Tactics & Kill Chain Defenses
Areas Covered on the GDAT
Advanced Persistent Threat models and methods
Detecting and preventing payload deliveries, exploitation, and post-exploitation activities
Using cyber deception to gain intelligence for threat hunting and incident response
Who is the GDAT for?
Security architects
Security engineers
Technical security managers
Security Operations Center analysts, engineers, and managers
Penetration testers who want to better understand how defensive controls work
IT administrators
Individuals looking to better understand how persistent cyber adversaries operate and how the IT environment can be improved to better prevent, detect, and respond to incidents
Find affiliated training for GDAT now.
*No Specific training is required for any GIAC certification. There are many sources of information available regarding the certification objectives' knowledge areas. Practical experience is an option; there are also numerous books on the market covering Computer Information Security. Another option is any relevant courses from training providers, including SANS.*
Requirements
Minimum Passing Score To Be Determined
Renew
Certifications must be renewed every 4 years. Click here for details.
Delivery
NOTE: All GIAC exams are delivered through proctored test centers and must be scheduled in advance.
GIAC certification attempts will be activated in your GIAC account after your application has been approved and according to the terms of your purchase. Details on delivery will be provided along with your registration confirmation upon payment. You will receive an email notification when your certification attempt has been activated in your account. You will have 120 days from the date of activation to complete your certification attempt. GIAC exams must be proctored through Pearson VUE. Please click the following link for instructions on How to Schedule Your GIAC Proctored Exam http://www.giac.org/information/schedule_proctored_exam.pdf. GIAC exams are delivered online through a standard web browser.
Where to Get Help
Training is available from a variety of resources including on line, course attendance at a live conference, and self study.
Practical experience is another way to ensure that you have mastered the skills necessary for certification. Many professionals have the experience to meet the certification objectives identified.
Finally, college level courses or study through another program may meet the needs for mastery.
The procedure to contest exam results can be found at https://www.giac.org/about/procedures/grievance.