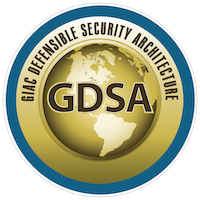 GIAC Defensible Security Architecture (GDSA)
GDSA Certification Available for pre-sale in conjunction with affiliated training beginning late April
Description
"The GIAC Defensible Security Architecture (GDSA) certificate is an industry certification that proves an individual is capable of looking at an enterprise defense holistically. A GDSA no longer emphasizing security through a single control but instead applies multiple controls ranging from network security, cloud security, and data-centric security approaches to properly prevent, detect, and respond. The end result is defense-in-depth that is maintainable and works."- Justin Henderson, SANS SEC530 Course Author
Who is the GDSA for?
Security Architects
Network Engineers
Network Architects
Security Analysts
Senior Security Engineers
System Administrators
Technical Security Managers
CND Analysts
Security Monitoring Specialists
Cyber Threat Investigators
Areas Covered on the GDSA
Defensible Security Architecture: network-centric and data-centric approaches
Network Security Architecture: hardening applications across the TCP/IP stack
Zero Trust Architecture: secure environment creation with private, hybrid or public clouds
SANS SEC530 Alumni will be eligible to challenge the GDSA exam. All alumni of SEC530 will receive a special offer email with a discount code once the exam is live to the public in late July 2019
Find affiliated training for GDSA now.
Requirements
Minimum Passing Score To Be Determined
Renew
Certifications must be renewed every 4 years. Click here for details.
Delivery
NOTE: All GIAC exams are delivered through proctored test centers and must be scheduled in advance.
GIAC certification attempts will be activated in your GIAC account after your application has been approved and according to the terms of your purchase. Details on delivery will be provided along with your registration confirmation upon payment. You will receive an email notification when your certification attempt has been activated in your account. You will have 120 days from the date of activation to complete your certification attempt. GIAC exams must be proctored through Pearson VUE. Please click the following link for instructions on How to Schedule Your GIAC Proctored Exam http://www.giac.org/information/schedule_proctored_exam.pdf. GIAC exams are delivered online through a standard web browser.
Where to Get Help
Training is available from a variety of resources including on line, course attendance at a live conference, and self study.
Practical experience is another way to ensure that you have mastered the skills necessary for certification. Many professionals have the experience to meet the certification objectives identified.
Finally, college level courses or study through another program may meet the needs for mastery.
The procedure to contest exam results can be found at https://www.giac.org/about/procedures/grievance.