Guidelines and Requirements
General Information | CPE Categories | Requirements for CPE Submission | Multiple Certification Discounts | GSE | Instructions for the Renewal Process | Ethics | Documents
GIAC continues to accept a wide variety of professional activities as Continuing Professional Experience (CPE) credits. We have expanded the flexibility of these CPEs to further simplify the maintenance of your certifications.
You can start accumulating and tracking your CPE credits as soon as your GIAC certification is earned and have until your certification's expiration date to complete CPE submission and payment. All relevant CPE submissions must have been acquired within 4 years prior to your GIAC certification expiration date to qualify.
CPEs accumulated from SANS and GIAC activities will be automatically tracked in your account!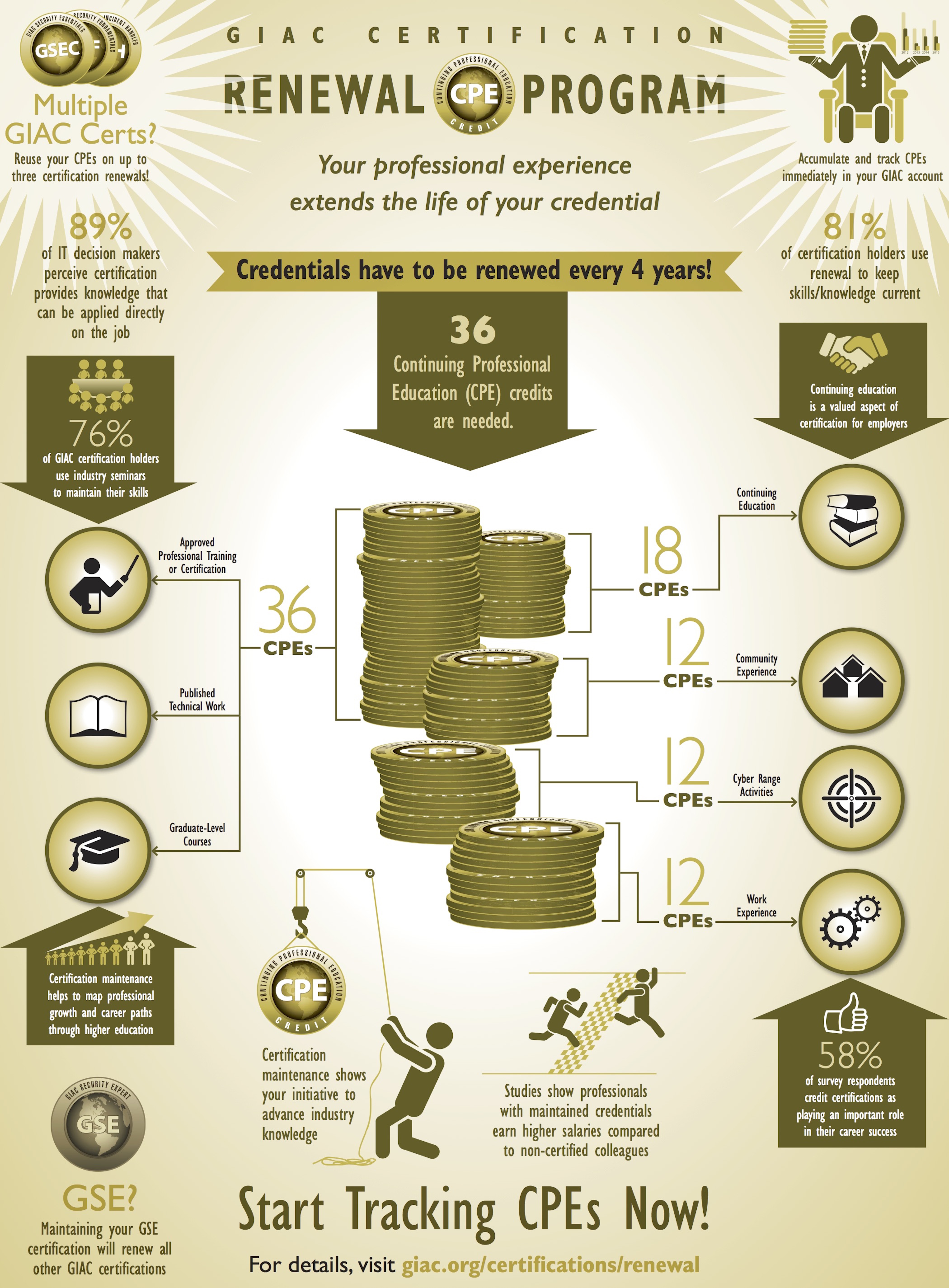 General Information
GIAC certifications require renewal every four years. Registration is enabled at the 2-year mark prior to your certification expiration date.
We offer several options to demonstrate ongoing competency in the Information Assurance field and maintain your GIAC certification. Each activity has its own CPE value and can be used towards 1, 2, or 3 certification renewals, depending on the activity. Please click on individual links below for more information.
The certification maintenance fee is a non-refundable $429 payment, due once every four years at the time of registration.
It is your responsibility to submit CPE information and documentation in advance of your certification's expiration date. To ensure your application is processed in time, please allow 30 days for processing, from the time of completed submission.
Documents
Certification Renewal Handbook
Certification Renewal Quick Start Guide
CPE Categories
Requirements for CPE submission
When renewing by CPE option for GIAC certifications the following steps must be followed:

Submit and assign CPEs to GIAC certification needing renewal and attach all supporting documentation.
Provide justification for CPEs assigned if required
If documentation is not provided at time of submission, it will be rejected and will require resubmission once all documents are available
Submit non-refundable payment for maintenance fee - $429

The ability to complete registration starts at the 2-year mark prior to your certification expiration date.
Applications must be complete with all supporting documentation prior to submission. Applications that are incomplete, or lack the required supporting documentation, will be rejected and will require resubmission once all requirements have been gathered.
We suggest submitting your paperwork at least 30 business days prior to your certification's expiration date.
A 30 day review of your CPE submission is required after payment has been finalized, please be aware of any renewal deadlines approaching.
By choosing the box "Include Books" on your renewal registration, a shipping fee will be assessed to provide the following:

An updated set of course books, audio files, and any added content such as DVDs or USBs.
Please note: Any additional hardware, such as F-Response and the Windows License, is not included.
Multiple Certification Discounts
Registering for multiple GIAC certification renewals in a two-year period qualifies for a discount. The first renewal is $429, and all additional renewal registrations received within the following two-year period are $219 each.
The two-year mark begins on the date your first renewal registration has been paid. It is not based on certification expiration dates or the date of renewal.
Ethics
All information submitted under certification maintenance is carefully reviewed by our staff and subject to an audit. Renewal candidates who knowingly and willingly submit false information or forged documents will be reported to the Ethics Council for review. Possible sanctions could include revocation of all GIAC certifications or barring from participation in GIAC community events.
For any ethic concerns or to report ethic issues please visit our code of ethics page: Code of Ethics
GSE
GSE certifications can be renewed through the Exam option only. CPE submissions will not be accepted. Renewing your GSE will renew all other current certifications held.
Instructions for the Renewal Process
The submitting and tracking of CPE credits, assignment of CPE credits to specific certification renewals, and registration, are all completed through your online GIAC Account Dashboard.
Certification Renewal Registration:
Once logged in to your account, click 'Certification History.'
Click 'Renew Now.'
Click the 'Alternative CPE option to complete your renewal using your CPE submissions and assignments.
Click the Exam option to renew by taking the current exam for your certification
Submitting CPE Credits:
Once logged in to your account, click 'Certification History.'
Click 'Submit New Credits.'
Select the CPE Category and Subcategory.
Enter your information in the fields on the submission form.
Click 'Submit Request' for CPE Credit.
Attach your documentation as a file or link to URL.
Add any supporting documentation if needed.
Click 'Submit Request' for CPE credit.
Assignment of CPE credits to certification renewals:
Once logged in to your account, click 'Certification History.'
Click 'CPE - Submit and Assign Credits'.
For each submission previously made, click the 'Assign Them All' link at the top of the page, or
Click on the individual link(s) that say 'Assign'
If prompted, please complete the CPE Justification by clicking the 'Justify' link
Answer the two multiple choice questions.
Click 'Justify Assignment to Certification'.