Take a Tour of the New Exam Experience
Getting ready for your GIAC exam? Practice tests now feature the new interface. Login to your account to test drive the new exam experience.
Top Exam Interface Features
Improved CyberLive Experience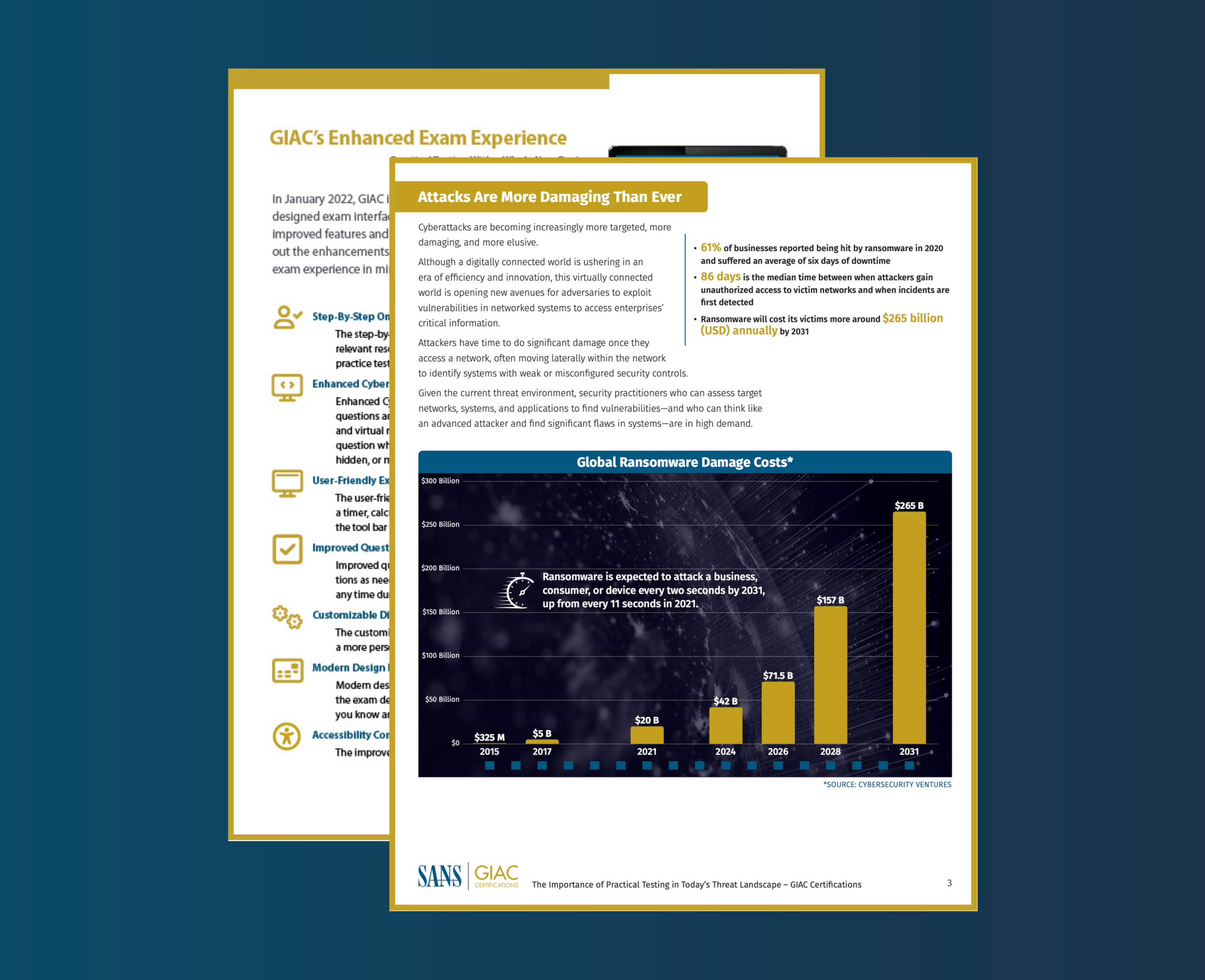 Enhanced Testing Environments: One Step Further for Skill Validation
Update Overview:
Explore the full list of exam enhancements in an at-a-glance, quick-read format.
Practical Testing Report:
Discover why practical testing is more important than ever in today's cyber security landscape.
The interface looks clean, well thought out, and put together. I like this design better because it is more customizable to the way I take tests.
I really like the onboarding process because it is easy to digest the information.
This is great. Love all the colors. I have all the information I need at the top. This is amazing compared to the way it was before.
I like the scaled down design. It helps you focus on the question a lot more.
I find the timer intrusive when taking exams. I find it helpful to now be able to hide the timer.
New Exam Experience FAQs
The GIAC exam interface is being redesigned to include user-friendly exam tools, modern design elements, and an improved CyberLive experience.

The public release is targeted to all candidates in mid-to-late January 2022. This includes GIAC practice tests and certification exams as well as CyberTalent assessments.

The new GIAC exam interface has a dark mode option that can be toggled on or off at any point both before and during an exam.

All buttons on the onboarding page and question screens are keyboard accessible.

During an exam, all question screens will have a collapsible tool bar that displays the exam time remaining and provides access to exam settings such as dark mode.

CyberLive questions now have a collapsible Question Box overlay in the virtual machine, eliminating the need for candidates to switch between the exam interface and VM when submitting answers to questions.

The new interface is designed to make is easier for candidates to interact with features of the exam, but the new design has no impact on the difficulty of the questions.

Candidates will have the opportunity to submit feedback upon completion of their practice test or exam.

If you completed the exam, you can report that information in the feedback form at the end of the exam. Otherwise, please contact info@giac.org and notify the team directly.

Yes, candidates can still submit feedback on questions. The 'Flag A Question' feature has been replaced with the 'Submit Question Feedback' link.