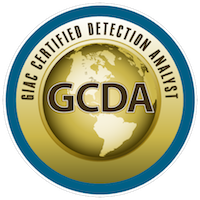 GIAC Certified Detection Analyst (GCDA)
GCDA Certification Available late-May 2018
SANS SEC555 Alumni will be eligible to challenge the GCDA exam. All alumni of SEC555 will receive a special offer email with a discount code once the exam is live to the public in late May 2018.
Description
"The GIAC Certified Detection Analyst (GCDA) is an industry certification that proves an individual knows how to collect, analyze, and tactically use modern network and endpoint data sources to detect malicious or unauthorized activity. This certification shows individuals not only know how to wield tools such as Security Information and Event Management (SIEM) but that they know how to use tools to turn attacker strengths into attacker weaknesses." - Justin Henderson, SANS SEC555 Course Author
Who is the GCDA for?
Security Analyst
Security Architects
Senior Security Engineers
Technical Security Managers
SOC Analysts
SOC Engineers
SOC Managers
CND Analysts
Security Monitoring
System Administrators
Cyber Threat Investigators
Individuals working to implement Continuous Security Monitoring or Network
Individuals working in a hunt team capacity
Areas Covered on the GCDA
SIEM Architecture and SOF-ELK
Service Profiling, Advanced Endpoint Analytics, Baselining and User Behavior Monitoring
Tactical SIEM Detection and Post-Mortem Analysis
Find affiliated training for GCDA now.
No Specific training is required for any GIAC certification. There are many sources of information available regarding the certification objectives' knowledge areas. Practical experience is an option; there are also numerous books on the market covering Computer Information Security. Another option is any relevant courses from training providers, including SANS.
Requirements
Minimum Passing Score To Be Determined
Renew
Certifications must be renewed every 4 years. Click here for details.
Delivery
NOTE: All GIAC exams are delivered through proctored test centers and must be scheduled in advance.
GIAC certification attempts will be activated in your GIAC account after your application has been approved and according to the terms of your purchase. Details on delivery will be provided along with your registration confirmation upon payment. You will receive an email notification when your certification attempt has been activated in your account. You will have 120 days from the date of activation to complete your certification attempt. GIAC exams must be proctored through Pearson VUE. Please click the following link for instructions on How to Schedule Your GIAC Proctored Exam http://www.giac.org/information/schedule_proctored_exam.pdf. GIAC exams are delivered online through a standard web browser.
Where to Get Help
Training is available from a variety of resources including on line, course attendance at a live conference, and self study.
Practical experience is another way to ensure that you have mastered the skills necessary for certification. Many professionals have the experience to meet the certification objectives identified.
Finally, college level courses or study through another program may meet the needs for mastery.
The procedure to contest exam results can be found at https://www.giac.org/about/procedures/grievance.